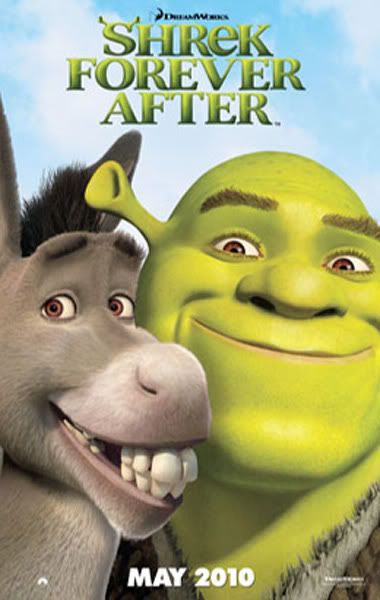 After three films, in this fourth film is over already 'way of life' Shrek and his friends. 'Shrek After Forever' is the last of the Shrek movies, and not half-hearted presented in 3D format (there is even an Imax 3D, aka two-fold the normal cinema screen. When playing at the Golden Conch huh?).
Remove from the bandwagon 3D trend, this film really entertaining and refreshing. He also separated from the formula of three predecessor films. But, still within the framework of a fairy tale (which is a bit deconstructed). This time, about a fairy tale about if you were given overnight.
To dwell on the life story of 'normal' Shrek (voice by Mike Myers filled) were deemed boring and not himself. Shrek wants to like her old self, ogre (Ogre), the dreaded, life without restraint, and soak in puddles of mud.
Then he met with Rumpelstitskin (Walt Dohrn) who could meet his dream, as long as Shrek gave him one day in his life. Later, after Shrek signed the agreement, terkuaklah that Rumpelstitskin trap him, because he took the days when Shrek was born.
And because of that, the whole universe is change, and it's friends Donkey (Eddie Murphy), Puss The Boot (Antonio Banderas), even his wife Fiona (Cameron Diaz). Though, to wrest back her life, she must get a 'kiss of true love' Fiona and support his friends. He had only one day, and this is Mission Impossible.
Interestingly, here displayed two rare species never even appeared in previous films: the witch and the ogre. The witches, complete with pointed hat and broom flying, is the son of fruit Rumpelstitskin. And the Ogre is making the audience aware that Shrek is the smallest among them. In that world, witches rule the world Far Far Away and the ogre became prey.
Then there was war between the two led shouted 'Fiona'! Can imagine how difficult the mission Shrek get a kiss from the chief of the rebel underground. Another thing that is also newly emerging and very cute is the third Shrek and Fiona's kids are adorable.
Shrek friends are also increasingly characterized here. Donkey and Puss fixed ngocol the Boot become obese and without boots. The Dragon is also still illegal in cyberspace that. And here we are shown the difference between Ogre and Troll race.
But, like the three previous films, the audience should equip itself with pop culture references, especially the fairy tale world like Pinocchio, or the three little pigs; also jadul kind song 'Hello' from Lionel Richie.
And also end the adventures of Shrek, by giving the impression of a sweet and refreshing.