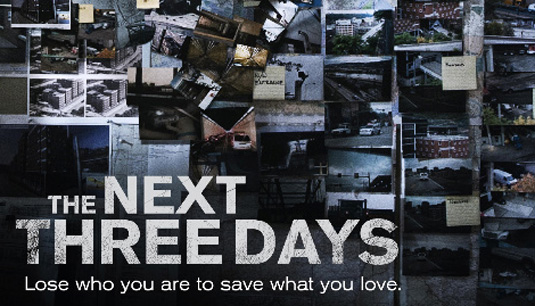 Life is so perfect for John Brennan (Russell Crowe), his wife Lara (Elizabeth Banks), and his son (Luke). John who is a teacher in one of the leading campus in Pittsburgh, USA, and Lara are working in a company have a normal life like other small family. However, the conflict started when all of a sudden she was arrested on charges of murder that he did not do. Here's footage of The Next Three Days.
Three years later, John struggled with his family to raise her son and tried to remove Lara from prison. However, his lawyer could not prove that she is innocent. While their appeal is rejected, she becomes a suspect of murder and attempted suicide, John decides there is only one solution: to run his wife from prison.
Later, he ignored
commonness
in terms of prison break, John formulate tactics to meet a villain who has repeatedly escaped from prison and asked him to give a solution. John was plunged into a dangerous world and foreign to him, risking everything for the woman he loves.
In addition to starring Russell Crowe and Elizabeth Banks, the film also stars Oscar nominated actor, Liam Nesson as a cameo actor Damon Pennington and directed by Paul Haggis.
Curious how the end of the story of John and Lara? For lovers of romantic drama film that combined with action games, be prepared to wait for this movie playing in theaters-bishop in the country selection